Local SEO – How we improve it for you.
Local SEO is a very important part to your overall SEO campaign. For smaller businesses that operate on a very small regional or "local" level, getting to your core customer base is vital. While national SEO focuses more on ranking in the search engines across the country, local SEO prioritizes appearing on search engines in a specific place, like a state or city. This SEO strategy relies on marketing your brand, companies products and services to local customers.
No need to spend money and target national terms if your a plumber in Denver, investing in local SEO will turn a better ROI.

Tim Vee – digital Goliath Marketing
Improving and "optimizing" your local SEO presence is key to getting more leads and customers in your market area by making your site a lot more relevant for people looking for your product or service in your area of operations.
No need to spend money and target national terms if your a plumber in Denver, investing in local SEO will turn a better ROI. But focusing on your nearby cities within your operations area is key to growing your business. Denver SEO
Let's go over a few ways on what we do (and you can to) to help improve your local SEO rankings.
---
What we do to help your local search engine rankings.
#1 – Search Engine Business Accounts/Maps
We will make you a business account on all the relevant search engines like Google, Bing and Yahoo or if you already have them we will go into them and improve the listing. This will get your company listed in the online maps and help your search engine presence by showing you a lot more often to leads in your area.
So anyone searching with their mobile or PC will see you in the results if their in your area. These listings show your website URL, hours of operation, address and also can have products and posts placed in them too.
---
#2 – Optimizing for Local Voice Search
Using your devices speech to text feature like 'Ok Google' is becoming the leading way people search for answers to their problems. We look to target key terms that people in your market area would say if they spoke into their device and then creating content on your site to target you as the answer to their inquiry.
By using our suite of tools we can target highly searched voice terms that help to solve the inquirers problems with your product or service.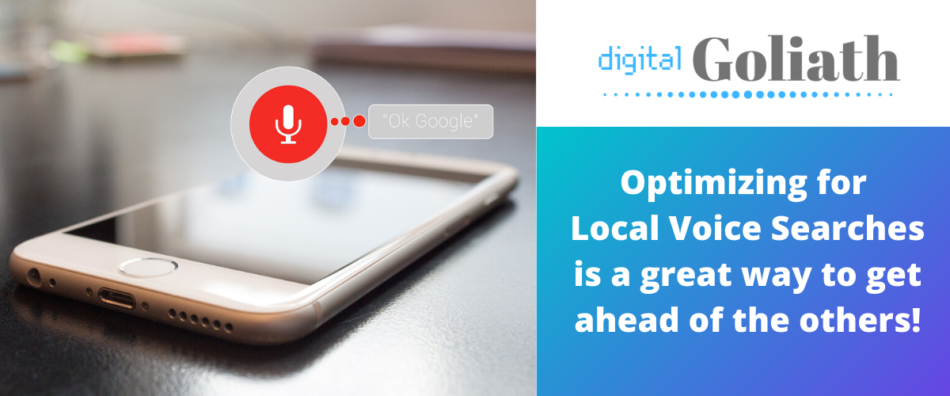 A good example is our Denver plumber. If someone needed a toilet installed they may ask their device "I need a new toilet installed" or maybe "get a toilet installed" and we would have made you an informative keyword rich, optimized article on your site, answering that inquiry leading them to your site. Because your local to them the search engines will display your article/company at a higher level.
---
#3 – Getting you positive reviews
We have a few great ways in getting you some awesome reviews of your company. By doing or showing you how to, we can gain you a ton of great reviews with email marketing, social media outreach and onsite tools that help to minimize any bad reviews. Getting a lot of positive reviews can help boost your search engine rankings and also shows new leads that your a company that gives great services and products.
Highlighting your positive Yelp, Google and Yahoo reviews can help boost your profits, site traffic and conversions.
---
#4 – Creating great content for your local market
We make amazing content. That's what our core strategy is. We do the home work and use solid data to write compelling, action driving, converting content for your site. This helps you to have a great chance of ranking highly in the search engines. By finding the local key terms people in your area are searching for, we can target your product or service to them with onsite content creation.
Another good way to help your local SEO is to write content about local community news, issues, activities or events in or about your niche and are in your area of operations. By showing the local community your care about your area, helps to make brand loyalty and help your SEO as well.
---
#5 – Placing your company in a ton of directories
We use our tools to help automate placing your company's accurate information, address and URL in all of the relevant directories. By using directories and paid listings like Angie's List, Yelp, Manta and Thumbtack we help you gain a better local search engine placement. These also gain you more links pointing to your site.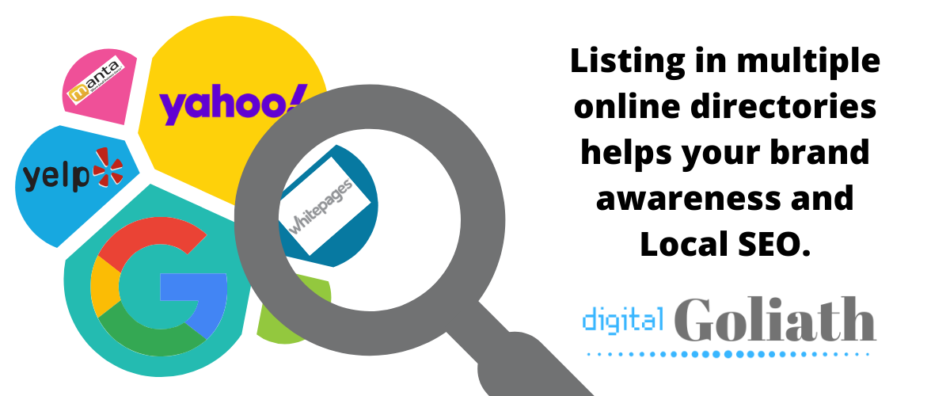 This will gain your company a lot of brand awareness and legitimize your company better, as people will see it in many directories.
---
Closing thoughts on local SEO….
We use some of the best tools and practices in the market to help your site gain rankings and traffic. By using these sound techniques and skills you can help to improve your sites local SEO and online presence.
Now these are not all of what we do to help you gain rankings, we do have a few company trade secrets we use to keep a competitive edge over our competition.
If you would like to speak with one of our team on how to improve your local search engine rankings, please click the button below.