Colorado Springs SEO and Content Marketing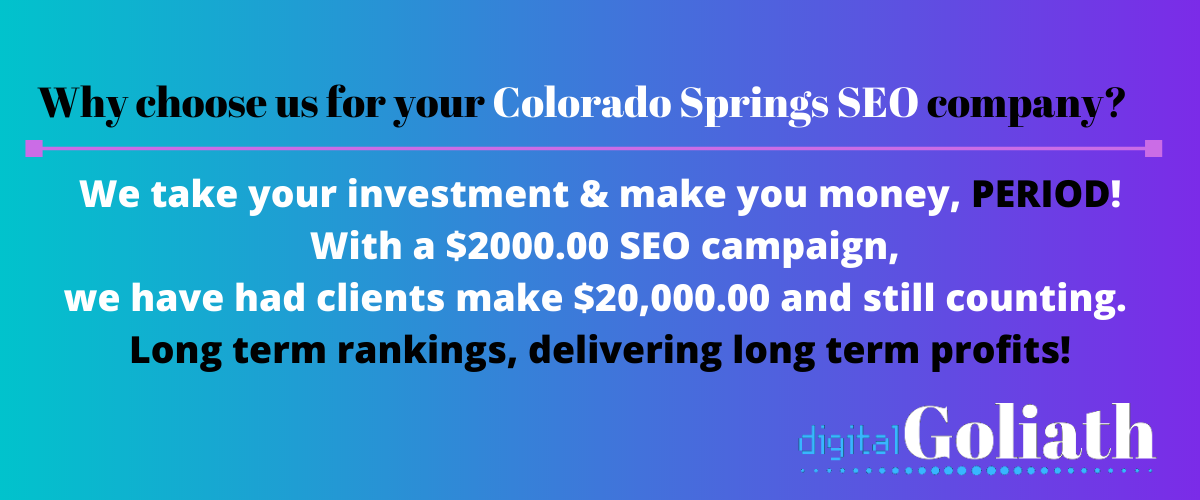 Colorado Springs SEO is one of our passions. We have been based in Colorado Springs for 7 years and know the market here. If your a local Colorado Springs company or have a few locations here, then you need local SEO.

We specialize in finding pre-qualified clients for local businesses in Colorado Springs. So if your company is local and not doing so well in the local searches, we can help!!!
We never promise you the first page, top placements and if anyone does you should run away. But we will improve your local Colorado Springs search rankings and first page top 4 positions is always our goal.
So what do we do to improve your Colorado Springs search results???
We use Local Blogs and Influencers.
Custom Content Creation for the Colorado Springs market, that turns conversions and improves sales.

On-Site Optimization and User Experience audits. We can monitor your sites traffic and tweak your site to convert more traffic into sales.

Data driven campaigns that turn a great ROI. Small investments that turn a nice profit!

Targeted local Google Ads, Bing Ads and Pay Per click advertising.
Customized SEO for your niche and site, to fit your needs and budget.
No "one size fits all" packages. Every niche and website needs a personal touch.

Establishing your local Colorado Springs Search Engine Rankings
Focusing on local Colorado Springs SEO can help your business expand your brand and help new leads become clients.
A great way to get more qualified leads to you is to gain a better local Colorado Springs search engine ranking.
Finding a worth while local SEO company is sometimes a challenge. We have had clients tell us about a lot of broken promises and wasted budgets on worthless campaigns targeting unobtainable terms.
We don't do that here. We use our suite of tools to gain cold hard data and only go for terms that will turn you an awesome ROI. We always target search terms that will land you more qualified traffic, that is looking for your company to help them and fix their problem. We use a combination of onsite optimization, content creation and placement in websites and blogs that will actually get you conversions and also help your rankings.
We are Very Good at Ranking You Higher in the Local Search Engines!
Click here to get started.
Using Local Colorado Springs Search Ads and PPC Campaigns
We are professionals at using Google Ads ,  Bing Ads and purchasing cheap and effective Pay Per click ads. We can help you to turn a great conversion rate with those platforms. By using our suite of tools we can target inexpensive terms that will drive qualified traffic to your site for a great ROI.
Local Influencer Marketing
We also deploy local influencer marketing. By using the talent and the audience of some local celebrities within your location and niche, we can send a ton of qualified leads to your site.
With their social media and blog followers, we can help you to gain a foot hold in the local community showcasing your product or service and how it can benefit them. This gets you a lot more conversions and brand loyalty. By having a local Colorado Springs personality recommend your company  it can turn a lot of the followers into clients.
Click Here
To talk to an expert!
Ask for your Free SEO Audit!