Reach New Audiences With Guaranteed Publisher Placement on Major Media Websites
Getting your content in front of the eyes of your prospects isn't always easy.
If you want to get your content published, you're often at the whim of editors who ignore thousands of pitches per day.
Even if you do get through to them, there is no guarantee they will run your story.
We can do it for you!!!
Get your Content Syndicated for only $175.00 per placement!
Our syndication package gives you a direct line to thousands of new readers.
Just submit your content and you get published on 100+ high authority news sites across the US.
You can distribute new content or republish existing content.
THAT IS LESS THEN $1.75 PER SITE !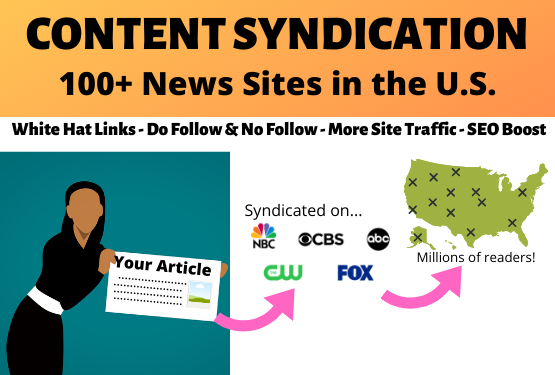 Content and URL placed on National & Local News Sites!

Placements on News sites like NBC, CBS, ABC, FOX local news outlets.

Safe SEO Link Placements!

White Hat Mix of Do-Follow and No-Follow links. All Google Safe!!

Search Engine Boosting!

High Authority Sites pointing to you helps your overall rankings in the search engines.

More Traffic to Your Site!

Article syndication also delivers traffic to your site from interested readers.

Distribute Original Content

You get 100 or more links from high authority sites!

Distribute Existing Content

(Content Republishing) - The site republishing the content can simply use the rel=canonical tag we place.